Avatar the way of water 3D blu-ray anmeldelse
Avatar the way of water 3D blu-ray Quick review
Det er udgaven fra England som er brugt til anmeldelsen af lyd og billede.

Anmeldelse skrevet af Biojensen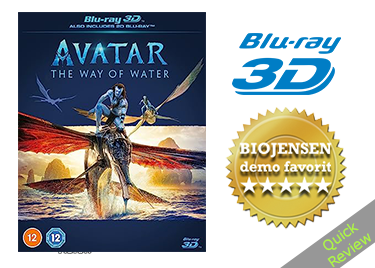 Zone A-B-C (Engelsk udgave)
Spilletid:
3 time & 13 minutter
Lyd:
DTS HD Master Audio 7,1
Undertekster: Engelsk, Fransk, Spansk
Aspect Ration: 1,85:1

Blu-ray udgivelsesdato: 26 juni 2023
Distributør: Disney
Antal disk: 4 = filmen i 3D på 2 x Blu-ray, filmen 1 x blu-ray, Ekstra 1 x blu-ray

Genre: action, eventyr
Biografpremiere: 14. december 2022

Instruktør: James Cameron
Manuskript: James Cameron, Rick Jaffa, Amanda Silver
Producer: B.la. Richard Baneham, Maria Battle-Campbell, James Cameron, Jon Landau
Fotograf: Russell Carpenter
Klip: David Brenner, James Cameron, John Refoua, Stephen E. Rivkin
Musik: Simon Franglen
Skuespiller:
Sam Worthington som Jake
Zoe Saldana som Neytiri (as Zoe Saldaña)
Sigourney Weaver som Kiri
Stephen Lang som Quaritch
Kate Winslet som Ronal
Cliff Curtis som Tonowari
Joel David Moore som Norm
CCH Pounder som Mo'at
Edie Falco som General Ardmore
Beskrivelse:
Avatar: The Way of Water når nye højder og udforsker uopdagede dybder. James Cameron vender tilbage til Pandoras verden i dette følelsesladede action-eventyr, som finder sted mere end et årti efter begivenhederne i seriens første film. Den betagende nye film fortæller historien om Sully-familien og introducerer publikum til det majestætiske havfolk.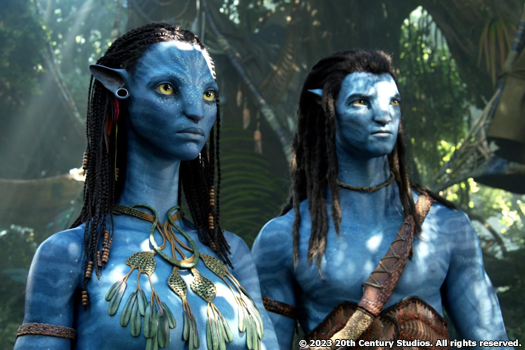 Der ikke så meget nyt over Avatar: The way of water, James Cameron udnytter performance capture til max og denne gang også under vand. Super flot film visuelt som den første film, håber ikke at Avatar film 3, 4 og 5 varer over 3 timer, Avatar: The way of water burde nok være ca. 30-45 minutter kortere.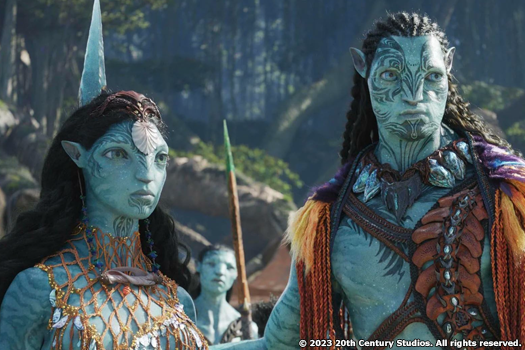 Til at filme Avatar: The Way of Water blev der optaget i 4K og 3D ved hjælp af Sony CineAlta Venice Rialto 3D-kameraer. Endnu en gang viser James Cameron 3D potentiale, billedet er
ekstremt detaljerede og farvemættede billeder i høj opløsning. Sortniveau imponerer og sammen med 3D effekterne giver det god dybde. Der er meget få gange der kommer noget helt ud i hovedet på en, men det gør ikke noget når 3D versionen giver så fantastisk et dybdeperspektiv i billedet. Avatar: The Way of Water viser at 3D stadig har sin berettigelse selvom det nærmest kun er biograferne som kan vise 3D. Det kræver en projektor eller en noget ældre skærm for at kunne gengive 3D i hjemmebiografen.

Avatar: The Way of Water kommer på 3D blu-ray kun med et 7.1 DTS-HD MA-lydspor, Det er ikke så detaljeret som Dolby Atmos lydsporet på UHD 4K blu-ray udgivelsen. Brugte Auro 3D upmixer som lige giver rum til lydsporet og lidt ekstra bas, i filmens mange actionsekvenser er der masser af gode og præcise retningspanoreringer imellem alle højtalerne, og samtidigt er der godt med drøn på subwooferen. Dialogen fremstår tydelig.

MInside Pandora's Box
- Building the World of Pandora (HD – 9:33)
- Capturing Pandora (HD – 10:47)
- The Undersea World of Pandora (HD – 11:30)
- The Challenges of Pandora's Waters (HD – 11:42)
- Pandora's Returning Characters (HD – 8:49)
- Pandora's Next Generation (HD – 10:47)
- Spider's Web (HD – 10:23)
- Becoming Na'vi (HD – 10:51)
- The Reef People of Pandora (HD – 11:47)
- Bringing Pandora to Life (HD – 14:40)
- The RDA Returns to Pandora (HD – 13:34)
- The New Characters of Pandora (HD – 9:38)
- The Sounds of Pandora (HD – 13:27)
- New Zealand – Pandora's Home (HD – 4:24)

More from Pandora's Box
- Casting (HD – 10:01)
- Stunts (HD – 5:42)
- The Lab (HD – 6:43)
- The Troupe (HD – 5:38)

Marketing Materials & Music Video
- The Weeknd's Nothing Is Lost (You Give Me Strength) Music Video (HD – 4:41)
- Theatrical Trailer 1 (HD – 1:39)
- Theatrical Trailer 2 (HD – 2:30)

Anmeldelse skrevet juli 2023